Just for Fun

The AGM Home Page -- Check it out for a refreshing amount of silliness, warmth, and fun.

The Dilbert Zone...an absolute must!

TPCN Quotation Center-- Over 13,000 quotations to inspire and empower you!



Television Shows

Friends Home Page! -- Check out this terrific site.
Seinfeld! -- Check out the cast here.
Open The X-Files if you dare.


Musicals

Les Miserables

Phantom of the Opera
Educational Sites

Learn French here!
Learn Italian here!
The Ability Utility -- Learn just about anything here!



Talkers

Below is a listing of the talkers you may find me at in order of frequency: (I use the alias 'marjie'.)

Afterdeath -- talker.com 5678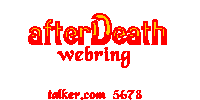 Castle Of Lost Dreams(COLD) -- koksu.tcm.hut.fi 5678